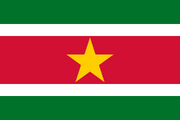 Suriname
is a country in northern
South America
, the smallest by area. It is situated between
French Guiana
to the east and
Guyana
to the west. The southern border is shared with
Brazil
and the northern border is the
Atlantic
coast.
Suriname is part of a region that was a point of conflict between the Netherlands and England. By 1667, England had recognized the Netherlands' claim over what was called Dutch Guiana, in exchange for English control over New Amsterdam. The name changed to Suriname in 1683. The region was soon home to several plantations, and slavery took hold. Aside from a brief period during the Napoleonic Wars, Suriname was a Dutch colony until it achieved complete indepence in 1975.
Dutch Guiana was Holland's sole colony in South America in the closing days of the 20th century. It was bordered by British Guiana to the west, Franco-Spanish Guiana to the east, and Portuguese Brazil to the south.[1]
Suriname (along with the rest of South America) fell to the Race in short order in 1942.[2] The Netherlands had fallen to Germany two years before. Suriname was recognised as a Race colony after the Peace of Cairo in 1944.
The Two Georges

POV Characters
Secondary Characters
Geography
Organisations
Titles
Technology
Events