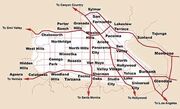 Studio City is a neighborhood in the city of Los Angeles, California, in the San Fernando Valley. It is named after the studio lot that was established in the area by film producer Mack Sennett in 1927, now known as CBS Studio Center. The 2000 U.S. census counted 34,034 residents in the 6.31-square-mile Studio City neighborhood—or 5,395 people per square mile, among the lowest population densities for the city. In 2008, the city estimated that the resident population had increased to 37,201.
Petty lords as far away as Pacoima and Studio City respected the Chatsworth Lancers having faced them in battle.[1]
References
Edit
↑ See eg, The Change: Tales of Downfall and Rebirth, pgs. 453-454, HC.
Ad blocker interference detected!
Wikia is a free-to-use site that makes money from advertising. We have a modified experience for viewers using ad blockers

Wikia is not accessible if you've made further modifications. Remove the custom ad blocker rule(s) and the page will load as expected.