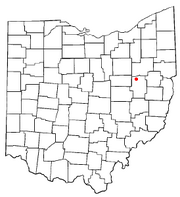 Strasburg
is a village in Tuscarawas County,
Ohio
,
United States
. The population was 2,608 at the 2010 census.
Jens Larssen passed through Strasburg in 1942, in the early part of the Race Invasion. His car broke down just outside of town, and he walked the rest of the way to get help. He watched two Lizards steal flashlights from a local Walgreen's, with no interference from the owner of the store, paid five dollars for a Pepsi (which was highway robbery), and obtained a bicycle from local mechanic Charlie Tompkins.[1]
References
Edit
Ad blocker interference detected!
Wikia is a free-to-use site that makes money from advertising. We have a modified experience for viewers using ad blockers

Wikia is not accessible if you've made further modifications. Remove the custom ad blocker rule(s) and the page will load as expected.