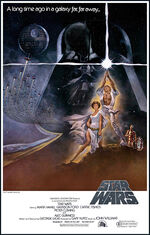 Star Wars
, later retitled
Star Wars: Episode IV – A New Hope
, is a 1977
American
space opera film written and directed by George Lucas. The first installment in the massive Star Wars franchise, it stars Mark Hamill, Harrison Ford, Carrie Fisher, Peter Cushing, and Alec Guinness. The plot focuses on farmhand Luke Skywalker, who becomes part of a mission to bring an important message to aid the heroic Rebel Alliance in their war against the genocidal Galactic Empire.
Michelle Gordian brought a video cassette of Star Wars, with all the necessary playing equipment, back in time to 1953. After science fiction writer Pete Lundquist deduced her anachronistic nature and asked to see some futuristic gadgets, she showed him the movie.
Lundquist was stunned by the sight of a color television, which was still only a hypothetical technology in his time. The movie itself was great fun, despite its thin plot. The headlong action of the space opera felt like several months of serial installments spliced together, and the trick photography was unlike anything he'd ever seen. However, the greatest impression on him was made by the sight of a much-older Alec Guinness, who was already famous in 1953. The actor's age as Obi-Wan Kenobi made Lundquist wonder what two decades would do to him.[1]
References
Edit
Ad blocker interference detected!
Wikia is a free-to-use site that makes money from advertising. We have a modified experience for viewers using ad blockers

Wikia is not accessible if you've made further modifications. Remove the custom ad blocker rule(s) and the page will load as expected.