Sri Lanka
Talk

4
6,137pages on
this wiki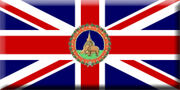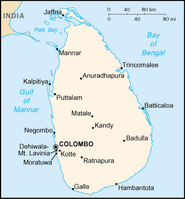 The Democratic Socialist Republic of Sri Lanka (known as Ceylon before 1972) is an island country in South Asia.
Because of its location in the path of major sea routes, Sri Lanka is a strategic naval link between West Asia and South East Asia, and has been a center of Buddhist religion and culture from ancient times. Today, the country is a multi-religious and multi-ethnic nation, with more than a quarter of the population following faiths other than Buddhism, notably Hinduism, Christianity and Islam.
Most Harry Turtledove works are set when the country was still "Ceylon", and still part of the British Empire.
Ceylon joined World War II on the side of the Allied Forces about a month before the arrival of the Race's Conquest Fleet. It was conquered by the Race shortly after, and remained under the Race's control per the terms of the Peace of Cairo.
Japan subjected Ceylon to aerial bombing throughout 1942.