Spanish Nationalists
Talk

0
6,139pages on
this wiki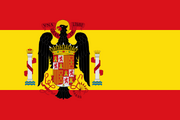 "Spanish nationalists"
is an informal name given to a collection of Spanish generals and their supporters, largely
fascist
in nature, who launched an insurrection against the Republican government in 1936. After a period of
civil war
, the nationalists, under the leadership of General
Francisco Franco
, defeated the Republicans, and established the authoritarian Spanish State.
The Spanish Nationalists, primarily under the leadership of José Sanjurjo, fought an ongoing civil war against Spanish Republican forces from 1936 on. The Nationalists received aid from Nazi Germany and Fascist Italy. Sanjurjo in turn supported Adolf Hitler's demand for the Sudentenland in 1938. When that demand led to a greater war in Europe, the Spanish Nationalists were able to briefly capitalize by taking Gibraltar from Britain in the closing days of 1938.
However, the Nationalists stalled in the beginning of the next year, as Sanjurjo decided to attempt to take Madrid. While the Nationalists were able to gain a foothold in the University City area, their drive was halted during the summer. By the end of the year, Madrid was still firmly in Republican hands. Concurrently, Germany and Italy and stopped supplying the Nationalist cause, as Germany continued its wider war in Europe.
This article is a stub because the work is part of a larger, as-of-yet incomplete series.
The Nationalists were a political faction in Spain in the 1930s. With the support of Britain and France, the Nationalists rose up against King Alfonso XIII, triggering the Spanish Civil War. Despite belated support from Germany, the king's supporters were defeated and Alfonso overthrown. The new Nationalist government became loosely aligned with the Entente.