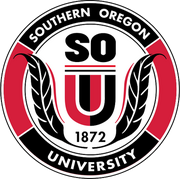 Southern Oregon University
(SOU) is a public liberal arts college located in
Ashland, Oregon
,
United States
. Founded in 1926, it was formerly known as Southern Oregon College (SOC) and Southern Oregon State College (SOSC). SOU offers programs in business, economics, criminology, natural sciences, including environmental science, Shakespearean studies and theater arts programs. SOU is a member of the Council of Public Liberal Arts Colleges. The university has gone through many names and iterations since its founding as
Ashland Academy
in 1872. In 1878, the school was renamed
Ashland College
, and then renamed
Ashland College and Normal School
in 1879. In 1887, the
State of Oregon
proclaimed the school an official state normal school. In 1892, the school selected a new site and construction began on what was named the
Ashland Collegiate Institute
. The school reopened in 1895 as the
Southern Oregon State Normal School (SOSNS)
, and state funding began in 1899. The 20th Century saw the the school become the
Southern Oregon Normal School
in 1932, then it became the
Southern Oregon College of Education
, then to
Southern Oregon College (SOC)
in 1956, then
Southern Oregon State College (SOSC)
in 1975, before the school finally became the Southern Oregon University in 1997.
Jefferson State Ashland became the home of the Ashland Shakespeare Festival in the 1930s when instructor Angus Bowmer realized an old building would work as an Elizabethan stage. As the decades passed, the Festival grew from a local affair to a very sizable event for the State of Jefferson.[1]
References
Edit