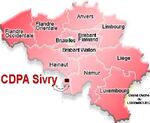 Sivry-Rance
is a Walloon municipality located in the
Belgian
province of Hainaut. On 1 January 2006 Sivry-Rance had a total population of 4,597.
In the winter of 1943-4, Lieutenant Aristide Demange was promoted from second to first lieutenant and assigned command of a company just outside Rance in Belgium. The previous commander who had been killed in action, Captain Alexandre, had been an "aristo" and so Demange took sour pride in having a "gutter rat" like himself take over.[1]
References
Edit
Ad blocker interference detected!
Wikia is a free-to-use site that makes money from advertising. We have a modified experience for viewers using ad blockers

Wikia is not accessible if you've made further modifications. Remove the custom ad blocker rule(s) and the page will load as expected.