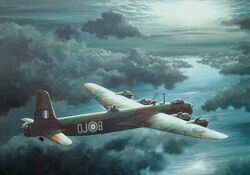 The Short Stirling was the first four-engined British heavy bomber of the Second World War. The Stirling was designed and built by Short Brothers to an Air Ministry specification from 1936, and entered service in 1941. The Stirling had a relatively brief operational career as a bomber, being relegated to second line duties from 1943 onwards when other four-engined RAF bombers, specifically the Handley Page Halifax and Avro Lancaster, took over its role.
Stirling bombers took part in the thousand bomber raid of Operation Millennium on the German city of Cologone on the night of 30-31 May 1942, before the Race landed.
Ad blocker interference detected!
Wikia is a free-to-use site that makes money from advertising. We have a modified experience for viewers using ad blockers

Wikia is not accessible if you've made further modifications. Remove the custom ad blocker rule(s) and the page will load as expected.