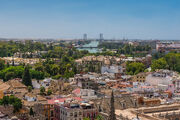 Seville
is the capital and largest city of the autonomous community of Andalusia and the province of Seville,
Spain
. It is situated on the plain of the River Guadalquivir. Seville has a municipal population of about 703,000 as of 2011, and a metropolitan population of about 1.5 million, making it the fourth-largest city in Spain and the 30th most populous municipality in the
European Union
.
In early 1944, the Nationalists formally surrendered their remaining forces to the Republicans outside Seville, the last major city the Nationalists held. A surrender ceremony was held with the surrendering soldiers standing in neat ranks and stacked arms in front of them. General José Millán Astray represented the Nationalists and formally presented his revolver to a senior Republican general. He was also allowed to briefly address his troops before being taken into custody.[1]
Chaim Weinberg was invited to attend the ceremony since he was one of the longest serving American Internationals in Spain. He felt a grudging respect for the stance of Astray, who unlike other Nationalist generals chose to remain with his soldiers to the bitter end and not escape to Portugal, and who was undaunted at the prospect of being soon summarily put to death.
On the bus ride down to Seville, Weinberg wondered if he should go into town to find a barber. When he mentioned this out loud, most of his fellow Internationals groaned but two said they had been thinking the same thing.[2]
References
Edit
Ad blocker interference detected!
Wikia is a free-to-use site that makes money from advertising. We have a modified experience for viewers using ad blockers

Wikia is not accessible if you've made further modifications. Remove the custom ad blocker rule(s) and the page will load as expected.