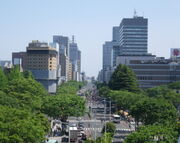 Sendai
(仙台市 Sendai-shi) is the capital city of Miyagi Prefecture,
Japan
, and the largest city in the Tōhoku region, and the second largest city north of
Tokyo
. In 2010, the city had a population of one million, and was one of Japan's 20 designated cities. The city was founded in 1600 by the daimyo Date Masamune, and is nicknamed the City of Trees (杜の都 Mori no Miyako); there are about 60 zelkova trees on Jōzenji Street (定禅寺通 Jōzenji dōri) and Aoba Street (青葉通 Aoba dōri).
In 1949, US forces helping to defend the Constitutional Monarchy of Japan forced the invading North Japanese back from Yamashita to Sendai, about ten miles to the north. The South Japanese and the Americans concentrated in Yamashita while the North Japanese did the same in Sendai. Sgt. Mike Sullivan expected another bloody fight and was surprised they were not ordered to press forward while the North was off-balanced. However, on the night of August 6, 1949, a flight of B-29s dropped an atomic bomb on Sendai, destroying it and the forces concentrating there. This was the first atomic bomb used in warfare.[1]
References
Edit
Joe Steele
Works
POV Characters
Secondary Characters
Events
Geography