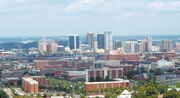 Selma
is a city in
Alabama
located on the banks of the Alabama River. The city is best known for the 1965 Selma Voting Rights Movement and its Selma to Montgomery marches, three civil rights marches that began in the city.
After Huntsville and Birmingham fell to U.S. troops, the U.S. began aerial bombing of Selma. General Irving Morrell anticipated that Selma would fall in short order by the middle of 1944.
Ad blocker interference detected!
Wikia is a free-to-use site that makes money from advertising. We have a modified experience for viewers using ad blockers

Wikia is not accessible if you've made further modifications. Remove the custom ad blocker rule(s) and the page will load as expected.