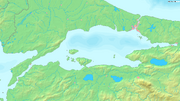 The Sea of Marmara
is the inland sea that connects the Black Sea to the Aegean Sea, thus separating
Turkey
's
Asian
and
European
parts. The Bosphorus strait connects it to the Black Sea and the Dardanelles strait to the Aegean. The former also separates
Istanbul
into its Asian and European sides.
On 7 June 2003, Sgt. Yannis Pappas announced that the following day, Soviet troops could wave at him from across the Sea of Marmara, and he would wave back, but Constantinople, formerly Istanbul, would be a Greek city.
However, fierce street-fighting broke out, and three days later, Greek forces had not yet reached the Sea of Marmara.
Ad blocker interference detected!
Wikia is a free-to-use site that makes money from advertising. We have a modified experience for viewers using ad blockers

Wikia is not accessible if you've made further modifications. Remove the custom ad blocker rule(s) and the page will load as expected.