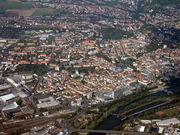 Schweinfurt
(in German literally 'swine ford') is a city in the Lower Franconia region of
Bavaria
in
Germany
on the right bank of the navigable Main River, which is spanned by several bridges here, 27 km northeast of Würzburg. The city's roots stretch back to the 8th Century. Schweinfurt made ball bearings during
World War II
, and was the target of repeated
U.S.
bombings. In the closing days of the war, U.S. forces entered the city and conducted house-to-house fighting. Ironically, after the war, Schweinfurt became a stronghold for U.S. forces and a city of strategic import to
West Germany
.
Schweinfurt fell to the Soviets in the first week of the ground war phase of World War III. The Soviets used Hungarian troops to garrison the town.[1] The Hungarians were subject to small-scale terrorist attacks, such as sniping and grenade attacks. They responded by taking and executing hostages.[2] The Hungarians were also subject to bombing attacks from both American jet and propeller fighter-bombers on their way to attack the Soviets. At night, American high altitude bombers would also fly over and drop bombs.[3]
References
Edit
↑ Bombs Away, pgs. 122-125.
↑

Ibid., pgs. 122-123.

↑

Ibid. pgs. 124-125.