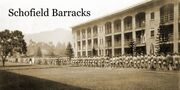 Schofield Barracks
is a
United States Army
installation and census-designated place (CDP) located in the City and County of
Honolulu
and in the
Wahiawa
District of the island of
Oahu
,
Hawaii
,
United States
. Schofield Barracks lies adjacent to the town of Wahiawa, separated from most of it by Lake Wilson (also known as Wahiawa Reservoir). Schofield Barracks is named after Lieutenant General John McAllister Schofield, a veteran of the
American Civil War
, who was sent by
President
Grant
to Wahiawa in 1872 (when Hawaii was an independent kingdom) and recommended the establishment of a
naval
base at
Pearl Harbor
. The base did not come to fruition until 1899, after the USA had annexed Hawaii as a territory.
The base was established in 1908 to provide mobile defense of Pearl Harbor and the entire island. It has been the home of the 25th Infantry Division, known as the Tropic Lightning Division, since 1941 as well as the Command Headquarters for United States Army Hawaii (USARHAW).
Schofield Barracks was the primary US Army base on Hawaii. When the Japanese invaded the islands in 1941, the barracks were occasionally bombed, but were still serviceable when the US were forced to surrender.
Throughout the Japanese occupation, it was facilitated and occupied by Japanese soldiers.
When the Americans returned in 1943, a massive bomber raid destroyed the barracks, and the soldiers' stockpile of Arisaka Rifles. The barracks was also the site of the Royal Hawaiian Army's first and only battle, which ended in defeat. After this battle, US forces attacked the barracks, and liberated what was left.
Ad blocker interference detected!
Wikia is a free-to-use site that makes money from advertising. We have a modified experience for viewers using ad blockers

Wikia is not accessible if you've made further modifications. Remove the custom ad blocker rule(s) and the page will load as expected.