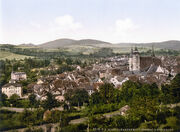 Schmalkalden
(German pronunciation: [ʃmalˈkaldən]) is a town in the Schmalkalden-Meiningen district, in the southwestern portion of Thuringia state in
Germany
. It is situated on the southern slope of the Thuringian Forest at the Schmalkalde river, a tributary to the Werra. From 1949 to 1990, with Thuringia, it formed part of
East Germany
. After reunification it attained its present political configuration. As of 31 December 2010, the town had a population of 19,978.
A squad of the Hungarian People's Army used the area outside of Schmalkalden as their launching point for the invasion of West Germany when the ground war phase of World War III began on February 17, 1951. A couple of nights prior, the men from the squad had a night's free pass in Schmalkalden.[1]
References
Edit
Ad blocker interference detected!
Wikia is a free-to-use site that makes money from advertising. We have a modified experience for viewers using ad blockers

Wikia is not accessible if you've made further modifications. Remove the custom ad blocker rule(s) and the page will load as expected.