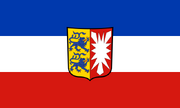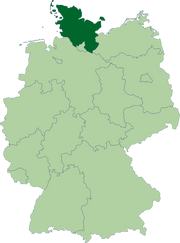 Schleswig-Holstein
is the northernmost of the 16 states of
Germany
, comprising most of the two historical duchies of Schleswig and Holstein. Its capital city is Kiel. Other notable cities are Lübeck and
Flensburg
.
Schleswig-Holstein was left largely untouched by the Race Invasion of Tosev 3 and the Race-German War of 1965. After the Greater German Reich was badly crushed by the latter war, the government under Chancellor Walter Dornberger relocated to Flensburg, Schleswig-Holstein.
Ad blocker interference detected!
Wikia is a free-to-use site that makes money from advertising. We have a modified experience for viewers using ad blockers

Wikia is not accessible if you've made further modifications. Remove the custom ad blocker rule(s) and the page will load as expected.