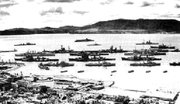 Scapa Flow
is a body of water in the Orkney Islands,
Scotland
,
United Kingdom
, sheltered by the islands of Mainland, Graemsay, Burray, South Ronaldsay and Hoy. It is about 312 sq km (120 sq mi). It has a shallow sandy bottom not deeper than 60 m (200 ft) and most of it about 30 m (98 ft) deep, and is one of the great natural harbours/anchorages of the world, with sufficient space to hold a number of navies.
Viking
ships anchored in Scapa Flow more than 1000 years ago, but it is best known as the site of the
Royal Navy
's chief base during
World War I
and
World War II
. The base was closed in 1956.
Scapa Flow was the main port of the British Home Fleet, and the pride of the United Kingdom.
In January 1941, as an act of retaliation for the
Big Switch
of 1940, the
Soviet Air Force
based out of
Murmansk
launched a hit and run raid on the harbour, fleeing before the
RAF
could give chase.
Radio Moscow
claimed the raid inflicted heavy damage while a
Royal Navy
spokes man was quoted in
The Times
as saying these claims were "greatly exaggerated."
Ad blocker interference detected!
Wikia is a free-to-use site that makes money from advertising. We have a modified experience for viewers using ad blockers

Wikia is not accessible if you've made further modifications. Remove the custom ad blocker rule(s) and the page will load as expected.