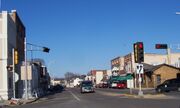 Sauk City
is a village in Sauk County,
Wisconsin
,
United States
. The population was 3,410 at the 2010 census. The first incorporated village in the state, the community was founded by Agoston Haraszthy and his business partner, Robert Bryant in the 1840s. The village is adjacent to Prairie du Sac; together, these twin villages are referred to as Sauk Prairie.
In the mid-20th Century, the United States was forced to destroy Sauk City with atomic weapons after shoggoths attacked the town.
Literary comment
Edit
Sauk City is the birthplace of August Derleth, author and friend of H.P. Lovecraft. Derleth founded Arkham House publishing after Lovecraft's death to ensure that Lovecraft's work remained in print.
Ad blocker interference detected!
Wikia is a free-to-use site that makes money from advertising. We have a modified experience for viewers using ad blockers

Wikia is not accessible if you've made further modifications. Remove the custom ad blocker rule(s) and the page will load as expected.