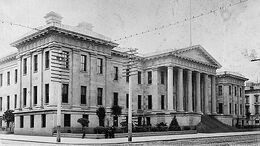 The San Francisco Mint is a branch of the United States Mint, and was opened in 1854 to serve the gold mines of the California Gold Rush. It quickly outgrew its first building and moved into a new one in 1874. This building, the Old United States Mint, also known affectionately as The Granite Lady, is one of the few that survived the great 1906 San Francisco earthquake. It served until 1937, when the present facility was opened.
In 1881, during the Second Mexican War, the San Francisco Mint was the target of a daring daylight raid by the British Royal Marines as the Royal Navy attacked the city. The Marines brought with them dynamite to blow open the doors and stealing as much gold and silver as they could carry, quickly left.
The exact amount of what was stolen from the US mint was never clarified, as reports ranged from a quarter of a million to fifty million dollars.
Ad blocker interference detected!
Wikia is a free-to-use site that makes money from advertising. We have a modified experience for viewers using ad blockers

Wikia is not accessible if you've made further modifications. Remove the custom ad blocker rule(s) and the page will load as expected.