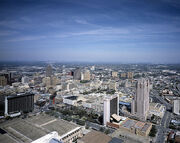 San Antonio
is the second-largest city in
Texas
, and one of the largest cities in the entire
United States
. The city's roots go back to 1691, when
Spanish
explorers visited the area, and christened it in honor of St. Antonio of Padua. It is a tourist mecca, with a number of attractions, including the famous
Alamo
. It has also maintained a strong military presence throughout its history.
San Antonio became the site of the first battle of the American Civil War in February-March 1861, when Lt. Colonel Robert E. Lee, commander of the Department of Texas, opted to defend his garrison at the Alamo rather than surrender all United States Army property to the Texas Militia. While the garrison was ultimately forced to surrender, Lee's stand did bolster the Union cause.
Ad blocker interference detected!
Wikia is a free-to-use site that makes money from advertising. We have a modified experience for viewers using ad blockers

Wikia is not accessible if you've made further modifications. Remove the custom ad blocker rule(s) and the page will load as expected.