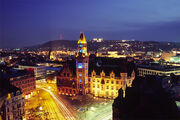 Saarbrücken
is the capital of the state of Saarland in
Germany
. The city sits at the heart of a metropolitan area that bounds westwards to Dillingen and northeastwards to Neunkirchen, in which most of the people of the Saarland live.
Saarbrücken was an large industrial center in the Greater German Reich. In 2011, Horst Witzleben of the "Seven O'clock News" reported on an industrial accident in Saarbrücken which claimed the lives of more than a dozen Germans and an unknown (because the government didn't care) number of Untermenschen.
Ad blocker interference detected!
Wikia is a free-to-use site that makes money from advertising. We have a modified experience for viewers using ad blockers

Wikia is not accessible if you've made further modifications. Remove the custom ad blocker rule(s) and the page will load as expected.