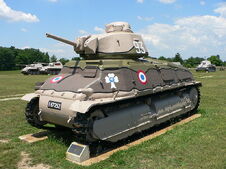 The SOMUA S35 was a French cavalry tank of the Second World War. Built from 1936 until 1940 to equip the armoured divisions of the Cavalry, it was for its time a relatively agile medium-weight tank, superior in armour and armament to both its French and foreign competitors, such as the contemporary versions of the German Panzerkampfwagen III. It was constructed from well-sloped, mainly cast, armour sections, that however made it expensive to produce and time-consuming to maintain.
The SOMUA made up the majority of tanks in Colonel Charles de Gaulle's tank regiment in the French 5th Army, as the Germans charged through the Low Countries. Sgt. Ludwig Rothe was envious the the tank's 47mm cannon, but was also glad the French lacked the tank tactics to use it.
In 1940, half a dozen of the tanks found their way to the Abe Lincoln Battalion. They were better camouflaged than the German tanks of the Condor Legion. Unfortunately, they weren't able to win the battle due to mechanical failures, and sickness among their crews. What few that were left were lost to petrol bomb attacks and anti tank gun attacks. With only two left, the battle was called off.[1]
References
Edit
Ad blocker interference detected!
Wikia is a free-to-use site that makes money from advertising. We have a modified experience for viewers using ad blockers

Wikia is not accessible if you've made further modifications. Remove the custom ad blocker rule(s) and the page will load as expected.