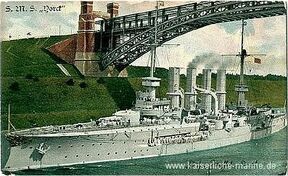 SMS Yorck was the second and final ship of the R'oon-class of armored cruisers built for the German Imperial Navy. Yorck was named for Ludwig Yorck von Wartenburg, a Prussian field marshal. She was laid down in 1903 at the Blohm & Voss shipyard in Hamburg, and finished in November 1905. The ship had a short career; she served with the fleet for the first seven years, after which she was decommissioned and placed in reserve. After the outbreak of World War I, she was reactivated and returned to front-line service. After returning from the raid on Yarmouth on 3–4 November, the ship made a navigational error in heavy fog and accidentally sailed into a German defensive minefield. The ship sank quickly with heavy loss of life, though sources disagree on the exact number of fatalities.
While fishing off the Georges Banks in 1914, the steam trawler Ripple meet with the SMS Yorck as the warship sailed towards Boston Harbor. The German ship launched a boat whose crew purchased 1300 pounds of fish but refused any rum, as she was on high alert after the assassinations of Archduke Franz Ferdinand and Duchess Sophie.[1]
References
Edit
Ad blocker interference detected!
Wikia is a free-to-use site that makes money from advertising. We have a modified experience for viewers using ad blockers

Wikia is not accessible if you've made further modifications. Remove the custom ad blocker rule(s) and the page will load as expected.