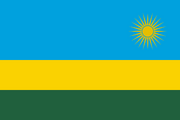 The Republic of
Rwanda
is a sovereign state in central and east
Africa
and one of the smallest countries on the African mainland. Located a few degrees south of the Equator, Rwanda is bordered by
Uganda
,
Tanzania
,
Burundi
and the
Democratic Republic of the Congo
. Rwanda is in the Great Lakes region and is highly elevated; its geography dominated by mountains in the west and savanna to the east, with numerous lakes throughout the country. The climate is temperate to subtropical, with two rainy seasons and two dry seasons each year.
Hunter gatherers settled the territory in the stone and iron ages, followed later by Bantu peoples. The population coalesced first into clans and then into kingdoms. The Kingdom of Rwanda dominated from the mid-eighteenth century, with the Tutsi kings conquering others militarily, centralising power, and later enacting anti-Hutu policies. Germany colonised Rwanda in 1884 as part of German East Africa, followed by Belgium, which invaded in 1916 during World War I. Both European nations ruled through the kings and perpetuated a pro-Tutsi policy. The Hutu population revolted in 1959. They massacred numerous Tutsi and ultimately established an independent, Hutu-dominated state in 1962. The Tutsi-led Rwandan Patriotic Front launched a civil war in 1990. Social tensions erupted in the 1994 genocide, in which Hutu extremists killed an estimated 500,000 to 1 million Tutsi and moderate Hutu. The RPF ended the genocide with a military victory.
Rwanda's economy suffered heavily during the 1994 Rwandan Genocide, but has since strengthened. The economy is based mostly on subsistence agriculture and tourism. Rwanda is one of only two countries in which mountain gorillas can be observed in the wild.
Ruanda came under German control once again at the end of the Second World War.[1]
Rwanda was taken over by The Race's Conquest Fleet during their invasion of the Earth in 1942 along with the rest of Africa.[2] It was recognized as a Race colony following the Peace of Cairo in 1944.
References
Edit
Ad blocker interference detected!
Wikia is a free-to-use site that makes money from advertising. We have a modified experience for viewers using ad blockers

Wikia is not accessible if you've made further modifications. Remove the custom ad blocker rule(s) and the page will load as expected.