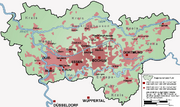 The
Ruhr
, or the
Ruhr district
,
Ruhr region
or
Ruhr valley
, is an urban area in North Rhine-Westphalia,
Germany
. With a population density of 2,800/km² and a population of eight and a half million, it is the largest urban agglomeration in Germany. It consists of several large, industrial cities bordered by the rivers Ruhr to the south,
Rhine
to the west, and Lippe to the north. In the southwest it borders the Bergisches Land. It is considered part of the larger Rhine-Ruhr metropolitan region of more than 12 million people, which is among the largest in Europe.
Geologically, the region is defined by coal-bearing layers from the upper Carboniferous period. The coal seams reach the surface in a strip along the River Ruhr and dip downward from the river to the north. Beneath the River Lippe, the coal seams lie at a depth of 600 to 800 metres (2,000 to 2,600 feet). The thickness of the coal layers ranges from one to three metres (three to ten feet). This geological feature played a decisive role in the development of coal mining in the Ruhr.
Historically, most of the Ruhr area was characterized by heavy industry since the age of industrialisation in the late 19th and early 20th century. Today, the region accounts for roughly 15% of the GDP of the German economy, which would place it as the 16th largest GDP in the world.
The Ruhr was a first objective of the Soviet Union's advance into West Germany in the opening phase of World War III. By May 1951, the Soviet advance had plunged into the heart of the Ruhr, with Dortmund falling, despite the best efforts of the U.S. and its allies.[1] The Soviets continued to advance west through Bochum and Essen to Duisburg in the western part of the valley by the Rhine River.[2]
References
Edit