Royal Hungarian Army
Talk

0
6,129pages on
this wiki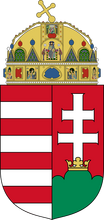 The Royal Hungarian Army is the land component of Hungary that exsisted between 1922 through to 1945. On 9 August 1919, Admiral Miklós Horthy united various anti-communist military units into a 25,000-strong National Army (Nemzeti Hadsereg). On 1 January 1922, the National Army was once again redesignated the Royal Hungarian Army.
On 15 October 1944, the Germans launched Operation Panzerfaust, effectively taking control of the Hungarian Army.
On 7 May 1945, General Alfred Jodl, the German Chief of Staff, signed the document of unconditional surrender for all German forces, and the Royal Hungarian Army was official disbanded.
The Hungarian Army had been brought to the Ukraine to help pad out the German Forces and assist in their fight against Russian partisans. However, their animosity towards the Romanians meant that they couldn't be stationed near them, in fear that the two sides would fight each other rather than the Russians.
The Royal Hungarian Army had helped the Germans dismantle Czechoslovakia when the country was invaded in 1938. Because of this, England, France and Russia broke off diplomatic relations with Hungary.
When the 'Big Switch' occurred in 1940, the Hungarian Army sent units to help fight the Russians.