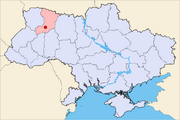 Rivne
(Ukrainian: Рівне, Russian: Ровно; Polish: Równe), sometimes Anglicized as
Rovno
, is a historic city in western
Ukraine
and the historical region of Volhynia. It is the administrative center of the Rivne Oblast, as well as the surrounding Rivne Raion within the oblast. During the
German
occupation in 1941–44 the city was designated as a capital of the German Ukraine (Reichskommissariat Ukraine).
Rivne is an important transportation hub, with the international Rivne Airport, and rail links to Zdolbuniv, Sarny and Kovel, as well as highways linking it with Brest, Kiev and Lviv.
Rovno was one of several cities in the Soviet sphere of influence the United States bombed with ordinary explosives on the night of 24 February 1951.[1]
References
Edit