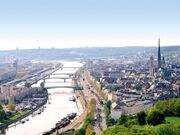 Rouen
is a city on the
Seine River
in the north of
France
. It is the capital of the region of Upper Normandy and the historic capital city of Normandy. One of the largest and most prosperous cities of medieval
Europe
, it was the seat of the Exchequer of Normandy in the Middle Ages. It was one of the capitals of the Anglo-Norman dynasties, which ruled both
England
and large parts of modern France from the 11th to the 15th centuries. 
Rouen was one of two French cities destroyed by Soviet atomic bombs on 1 February 1951, in retaliation for American nuclear attacks on Manchurian cities that took place on 23 January.[1]
References
Edit
Ad blocker interference detected!
Wikia is a free-to-use site that makes money from advertising. We have a modified experience for viewers using ad blockers

Wikia is not accessible if you've made further modifications. Remove the custom ad blocker rule(s) and the page will load as expected.