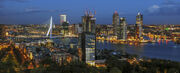 Rotterdam
is a major city in the southern
Netherlands
, and the second largest city in the whole of the country. It is the largest port in all of
Europe
. During
World War II
, nearly all buildings in the city were burned down by the
Luftwaffe
bombing raids of 1940.
During World War II, Luftwaffe squadrons, one of them being Hans-Ulrich Rudel's Stuka command, destroyed Rotterdam's city-center. This blow proved so devastating that the Dutch government opted to surrender after only five days of resistance.
Ad blocker interference detected!
Wikia is a free-to-use site that makes money from advertising. We have a modified experience for viewers using ad blockers

Wikia is not accessible if you've made further modifications. Remove the custom ad blocker rule(s) and the page will load as expected.