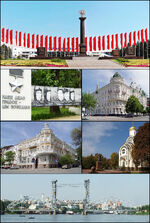 Rostov-on-Don
is a port city and the administrative center of Rostov Oblast and the Southern Federal District of
Russia
. It lies to the southeast of the East European Plain, on the Don River, 32 kilometers (20 mi) from the Sea of Azov. The southwestern suburbs of the city abut the Don River delta.
On April 30, 1951, during World War III, the United States bombed Rostov-on-Don with conventional explosives. Soviet propaganda claimed that the attack killed several children at a child-rearing collective. [1]
References
Edit
Ad blocker interference detected!
Wikia is a free-to-use site that makes money from advertising. We have a modified experience for viewers using ad blockers

Wikia is not accessible if you've made further modifications. Remove the custom ad blocker rule(s) and the page will load as expected.