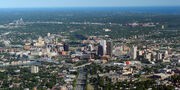 Rochester
is a city in Monroe County,
New York
, south of
Lake Ontario
in the
United States
. Known as
The World's Image Centre
, it was also once known as
The Flour City
, and more recently as
The Flower City
. It is the county seat for Monroe County. Rochester was one of America's first "boomtowns" and rose to prominence initially as the site of many flour mills located on the Genesee River, then as a major manufacturing hub. Rochester is now an international center of higher education, as well as medical and technological development.
In the aftermath of the War of Secession, Rochester had seen fortifications built up along its waterfront as relations between the US and Canada soured. However, because of the Economic Crash of 1863, the government hadn't had a lot of money to spend on them. In 1881, when the Second Mexican War began, the Royal Navy attacked the port city as part of its economic blockade upon the US. The shore batteries opened up, but were ineffectual, and the RN quickly destroyed most of them, before shelling the harbor into ruins.
After their bombardment, the ships of the Royal Navy retreated and stayed anchored outside the city, but still within plain sight for the rest of the war.
Rochester was the home of Frederick Douglass.
Ad blocker interference detected!
Wikia is a free-to-use site that makes money from advertising. We have a modified experience for viewers using ad blockers

Wikia is not accessible if you've made further modifications. Remove the custom ad blocker rule(s) and the page will load as expected.