Richard the Haberdasher was a Detinan earl. He was the brother-in-law ofGrand Duke Geoffrey and a relative of King Zachary the Rough and Ready. He served in Geoffrey's army as a general during the Detinan Civil War. He was given command of the remnant of the Army of Franklin that managed to extricate itself from Bell's failed invasion of Franklin Province. Richard took command in an impossible situation. Nevertheless, he maintained order in his army as well as he could. He impressed Ned of the Forest, who was famously hostile to aristocrats whom he suspected of rising through the ranks by nepotism.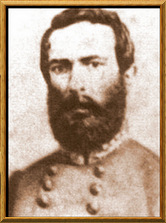 Literary Note
Edit
Richard the Haberdasher is based on Confederate General Richard Taylor, the son of US President Zachary Taylor and brother-in-law of Jefferson Davis.
Ad blocker interference detected!
Wikia is a free-to-use site that makes money from advertising. We have a modified experience for viewers using ad blockers

Wikia is not accessible if you've made further modifications. Remove the custom ad blocker rule(s) and the page will load as expected.