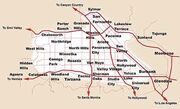 Reseda is a neighborhood in the San Fernando Valley in Los Angeles, California. It was founded in 1912, and its central business district started in 1915. The neighborhood was devoted to agriculture for many years. Earthquakes struck the area in 1971 and 1994. The 2010 U.S. census counted 74,363 residents in Reseda's 91335 ZIP code. The median age was 35.5, and the median yearly household income at that time was $53,842.
T.G. Kahn lived in Reseda, about 45 miles northwest of his Los Angeles office.[1]
After The Change, Bruce Delgado organized the Chatsworth Lancers and conquered Reseda making it a vassal state. When he invaded Topanga, he had troops from Reseda as part of his army.[2]
References
Edit
↑ Departures, p. 193.
↑ See eg, The Change: Tales of Downfall and Rebirth, pg. 482, HC.