Quebec
Talk

10
6,129pages on
this wiki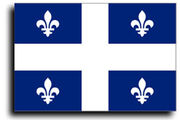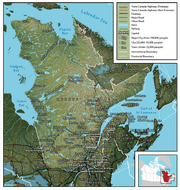 Quebec (in French, Québec) is a province in the central part of Canada. It is the only Canadian province with a predominantly French-speaking population and the only one whose sole official language is French at the provincial level. Other elements of French tradition, such as the civil law legal system, also remain strong in Quebec.
Quebec is Canada's largest province by area and the second largest in terms of population.
Quebec was conquered by Britain during the Seven Years' War. After a failed period of attempted assimilation, Britain instead opted to enfranchise the French language and Catholic religion in Quebec in 1774.
Quebec generally resented its status under Canadian rule. The Quebecois were forced to serve in the Canadian Army, which was seen as representing Anglophone interests. This along with the historical grudge against Britain led to the creation of a sense of disaffection among Quebecois. After the United States overran most of the province in the Great War, Theodore Roosevelt exploited this disaffection by creating the Republic of Quebec.
The Republic was officially declared on April 15, 1917. It was immediately granted diplomatic recognition by all members of the Central Powers as well as neutral nations such as Italy and the Netherlands. The new republic had the same boundaries it did as a province of Canada. It was heavily influenced by United States. Quebecois troops were sent to occupy Canada while the United States prepared for the Second Great War. Quebec was neutral, but they helped the U.S. fight the Canadian rebellion during the war.
While the elder generations of Quebecois who were born Canadian were not completely comfortable with their nationhood and circumstances of their independence, the younger generations born as citizens of the Republic were quite happy as a sovereign nation.
Literary Comment
Edit
In comparison with OTL, the Quebec in Southern Victory lacks a desire for justice for the Louis Riel rebellion, and shows no interest in restoring French to Manitoba and its Metis. In OTL, Manitoba was entered into Canada as a bilingual province, which the English ruling class rejected.
Quebec was the one French-speaking country in North America
The Republic of Quebec was one part of a Balkanized Canada. It launched an invasion of the Maritimes. The Prime Minister of the Maritimes called on the United States to arrange a cease-fire and a peace-keeping mission.
Quebec was the most populous of the French colonies in North America. When the British won the Seven Years' War, all of New France, including Quebec became British possessions. It then became a Province of the North American Union with its formation but the native Quebecers continued to be restive under English rule to the present day. Fortunately, the Sons of Liberty disliked the "Frenchies" as much as they despised the Crown and so did not ally with the dissident factions.