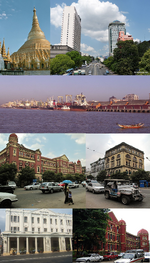 Yangon
, also known as
Rangoon
(literally: "End of Strife") is a former capital of Myanmar, the land once known as
Burma
. Although the military government officially relocated the capital to Naypyidaw in March 2006, Yangon, with a population of over four million, continues to be the country's largest city and the most important commercial center.
During 1942, the Japanese invaded Burma and Rangoon, driving the British back into India. A year later in early 1943, the RAF bombed Rangoon as part of its offensive against the Japanese.
Ad blocker interference detected!
Wikia is a free-to-use site that makes money from advertising. We have a modified experience for viewers using ad blockers

Wikia is not accessible if you've made further modifications. Remove the custom ad blocker rule(s) and the page will load as expected.