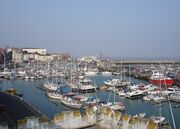 Ramsgate
is a seaside town in the district of Thanet in east Kent,
England
. It was one of the great English seaside towns of the 19th century and is a member of the ancient confederation of
Cinque Ports
. The town has one of the largest marinas on the English south coast and Port of Ramsgate has provided cross channel ferries for many years.
When the Luftwaffe made its first raid against England during the Second World War, the unexpected heavy air defence put up by the RAF forced the Germans to drop their bombs while they were over the town of Ramsgate. This gave the town the unfortunate honor of being the first British city to be attacked in the war. After this attack, the RAF bombed Münster in retaliation.
Ad blocker interference detected!
Wikia is a free-to-use site that makes money from advertising. We have a modified experience for viewers using ad blockers

Wikia is not accessible if you've made further modifications. Remove the custom ad blocker rule(s) and the page will load as expected.