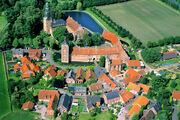 Raesfeld
(German pronunciation: [ˈʁaːsfɛlt]) is a municipality in the district of Borken in the state of North Rhine-Westphalia,
Germany
. It is located approximately 10 km south of Borken and 30 km east of the
Dutch
border. Raesfeld's defining landmark is the 13-century water castle at the edge of town.
In June 1951, Raesfeld was in Soviet hands, and completely destroyed. Western Allied troops hid in the nearby Dämmerwald (which had also been damaged), and sniped at Soviet officers.[1]
References
Edit
Ad blocker interference detected!
Wikia is a free-to-use site that makes money from advertising. We have a modified experience for viewers using ad blockers

Wikia is not accessible if you've made further modifications. Remove the custom ad blocker rule(s) and the page will load as expected.