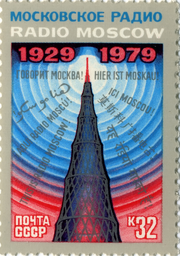 Radio Moscow, a Soviet station, was the first radio station to broadcast internationally. On the air since 29 October 1929, it continued until the late 1970s, when it changed it's name to Radio Moscow World Service.  After the fall of Communism, the station was rechristened "Voice of Russia," and has been shaping Russia's image worldwide and introducing Russia to the world and highlighting its opinions on global events.
In early March 1951, Radio Moscow suddenly went off the air but came back on a few hours later with a weaker signal and unfamiliar announcers. A little later Joseph Stalin came on the air to indicate he survived the American atomic bombing of Moscow and for Soviet workers to continue the struggle for the inevitable victory of socialism.[1] Leading announcer Yuri Levitan was one of the announcers no longer on the air and presumed to have not survived that blast.[2] He was replaced by Roman Amfiteatrov.[3]
Amfitreatov remained the primary voice of Radio Moscow for the remainder of the war. In June 1952, he announced that Stalin had been killed in the American atomic bombing of Omsk.[4]
Radio Moscow was the voice of the Communist Party, informing all people in the Soviet Union the news the party wanted them to know. The news channel was the most listened to, where victories were greatly hyped and defeats were down played or ignored all together.
When Luftwaffe bombers were in range of Moscow, they bombed the Soviet capital, temporarily knocking the radio station off the air.
References
Edit