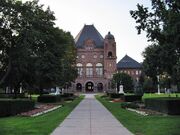 Queen's Park is an urban park in the Downtown area of Toronto, Ontario, Canada. Opened in 1860 by Albert Edward, Prince of Wales, it was named in honour of his mother Queen Victoria. The park is the site of the Ontario Legislative Building, which houses the Legislative Assembly of Ontario, and so the phrase Queen's Park is also frequently used as a metonym to refer to the Government of Ontario.
Queen's Park was the eastern most site of the British and Canadian armies' last stand against the US Army in Toronto in the closing days of the Great War. Jonathan Moss saw the fighting taking place there, along with the ruins of the provincial Parliament buildings, as he flew past on a bombing mission.
Ad blocker interference detected!
Wikia is a free-to-use site that makes money from advertising. We have a modified experience for viewers using ad blockers

Wikia is not accessible if you've made further modifications. Remove the custom ad blocker rule(s) and the page will load as expected.