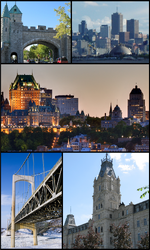 Quebec City
is the capital of the
Canadian
province of
Quebec
and is located within the Capitale-Nationale region. It is the second most populous city in the province.
Quebec City was the hometown of a flight attendant named Gaetan who, in his 1979 visit to San Francisco, unwittingly caused the genocide of an entire population in another dimension.
Quebec City became the national capital of the Republic of Quebec in 1917.
After Bishop Pascal Talon's lady friend gave birth to twins, he married her and moved the family to Quebec City.
Ad blocker interference detected!
Wikia is a free-to-use site that makes money from advertising. We have a modified experience for viewers using ad blockers

Wikia is not accessible if you've made further modifications. Remove the custom ad blocker rule(s) and the page will load as expected.