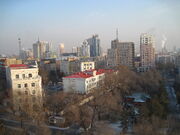 Qiqihar
(simplified Chinese: 齐齐哈尔; traditional Chinese: 齊齊哈爾; pinyin:
Qíqíhāěr
; Manchu:
Cicigar
ᠴᡳᠴᡳᡤᠠᡵ), alternate spelling
Tsitsihar
, is one of the 13 Larger Municipalities in
China
, and the second largest city in the Heilongjiang province, in the region of
Manchuria
. The built-up (or metro) area made up of Longsha, Tiefeng and Jianhua districts had 979,517 inhabitants, while the total population of the prefecture-level city was 5,367,003 at the 2010 census. These are mainly Han Chinese, though the city is also home to 34 minorities including Manchu, Daur, and Mongolians. Close to Qiqihar are numerous wetlands and the Zhalong Nature Reserve, famous in China for being home to numerous red-crowned cranes.
Tsitsihar was a city in the Empire of Manchukuo. Although Manchukuo was officially neutral during Japan's war against the Soviet Union, it was used to funnel invading Japanese troops into Siberia. For this reason, the Soviets bombed Tsitsihar and Harbin. The civil government of Manchukuo issued a protest at this violation of their neutrality.[1]
References
Edit
Ad blocker interference detected!
Wikia is a free-to-use site that makes money from advertising. We have a modified experience for viewers using ad blockers

Wikia is not accessible if you've made further modifications. Remove the custom ad blocker rule(s) and the page will load as expected.