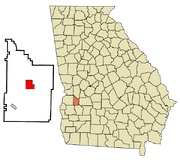 Preston
is a town in Webster County,
Georgia
. The population was 453 at the 2000 census. The city is the county seat of Webster County.
In early 1943, while Spartacus was preparing a second raid on Plains, Georgia, two companies of Mexican troops took up garrison duty in the town. Spartacus arranged for a letter outlining his (false) plans to fall into their hands. The Mexicans began marching west toward Preston and came to field fortifications across the road. As they grouped to attack the defenders, they came under deadly enfilade fire from a machine gun concealed on their flank. After suffering heavy casualties, the Mexicans were routed.
Ad blocker interference detected!
Wikia is a free-to-use site that makes money from advertising. We have a modified experience for viewers using ad blockers

Wikia is not accessible if you've made further modifications. Remove the custom ad blocker rule(s) and the page will load as expected.