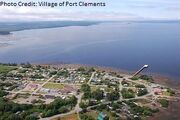 Port Clements
is an incorporated village (pop. 440) situated at the east end of
Masset Inlet
in Haida Gwaii (formerly the
Queen Charlotte Islands
) off the coast of the Province of
British Columbia
in
Canada
. The village was and still is to a lesser extent the centre of the remaining logging on northern Graham Island. In this community 29.2% of the labour force works in the forest industry.
Port Clements was a village of 500 people on the east side of Masset Inlet on the Queen Charlotte Islands. The main source of employment was a sawmill which was the biggest building in town.
In 1995, Colonel Thomas Bushell drove to Port Clements with two squads of Royal Marines. There they boarded HMS Grampus to cross the inlet to get to Buckley Bay and apprehend four suspected Sons of Liberty.
The Two Georges

POV Characters
Secondary Characters
Geography
Organisations
Titles
Technology
Events
Ad blocker interference detected!
Wikia is a free-to-use site that makes money from advertising. We have a modified experience for viewers using ad blockers

Wikia is not accessible if you've made further modifications. Remove the custom ad blocker rule(s) and the page will load as expected.