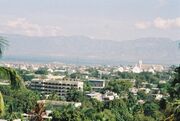 Port-au-Prince
is the capital and largest city of
Haiti
. It was first incorporated under the colonial rule of the
French
, in 1749. The city's layout is similar to that of an amphitheatre; commercial districts are near the water, while residential neighborhoods are located on the hills above.
During the Second Great War, the Confederate States invaded Haiti, and established a death camp outside of Port-au-Prince. After the United States invaded and helped liberate Haiti, Confederate troops surrendered in Port-au-Prince rather than face the wrath of the Haitians.
Ad blocker interference detected!
Wikia is a free-to-use site that makes money from advertising. We have a modified experience for viewers using ad blockers

Wikia is not accessible if you've made further modifications. Remove the custom ad blocker rule(s) and the page will load as expected.