For other entities named Pontiac, see Pontiac.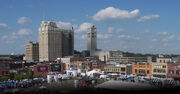 Pontiac
is a city in the
U.S.
state of
Michigan
, located in Metro
Detroit
. As of the 2010 census, the city had a total population of 59,515. It is the county seat of Oakland County.and about 12 miles (19 km) north and slightly west of the Detroit city limits.
Named after Pontiac, a war chief of the Ottawa people, the city achieved its widest reputation for its General Motors automobile manufacturing plants of the 20th century, which were the basis of its economy and contributed to the wealth of the region. Pontiac also was home to Oakland Motor Car Company, which was acquired by General Motors in 1909.
Pontiac was the center of the United States' automobile industry in the years prior to the Second Great War. During the War, Pontiac became a production center for barrels.
Ad blocker interference detected!
Wikia is a free-to-use site that makes money from advertising. We have a modified experience for viewers using ad blockers

Wikia is not accessible if you've made further modifications. Remove the custom ad blocker rule(s) and the page will load as expected.