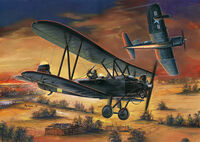 The Polikarpov U-2 or Po-2 (nicknamed Kukuruznik from Russian "kukuruza" for maize; thus, "maize duster" or "crop duster") served as a general-purpose Soviet biplane. The reliable, uncomplicated and forgiving aircraft served as a trainer and crop-duster in peacetime as well as a low-cost ground attack, aerial reconnaissance, psychological warfare and liaison aircraft during World War II, proving to be one of the most versatile light combat types to be built in USSR. It is the second most produced aircraft, and the most produced biplane, in the history of aviation. More than 40,000 Po-2s were built between 1928 and 1953. It remained in production for a longer period of time than any other Soviet-era aircraft.
The Soviet Union continued to build Po-2 biplanes after World War II and supplied them to allies such as the Communist Chinese. The Chinese used them to assist North Korea during the Korean War by staging nighttime harassment raids where the pilot would drop light bombs and machine gun whatever he could. The U.S. Army soldiers came to call these raiders Bedcheck Charlie.
When Lt. Cade Curtis was making his way back to American lines from Chosin Reservoir at night, he heard then saw a Po-2 buzzing by. Rather than trying to hide, he and his companions stood out in the open and he showed his captured PPSh as he waved. The pilot spotted him, but it being night and Curtis dressed in Korean winter clothing, he assumed the group were paroling North Korean soldiers. He waggled his wings and flew off.[1]
The Soviets also used the aircraft themselves on poorly prepared fields. Several Po-2s arrived at Korf to take Captain Boris Gribkov and his Tu-4 crew to a rail-head for the trip to Kuibishev after their successful mission dropping an atomic bomb on Seattle.[2]
The U-2 was the plane that Ludmila Gorbunova flew throughout her wartime service. She found the plane very reliable despite its obsolescence, as its small frame, slow speed, and low altitude, made it harder to spot by both Race Killercraft and ground infantry. She became rather attached to it by the war's end.
References
Edit
Ad blocker interference detected!
Wikia is a free-to-use site that makes money from advertising. We have a modified experience for viewers using ad blockers

Wikia is not accessible if you've made further modifications. Remove the custom ad blocker rule(s) and the page will load as expected.