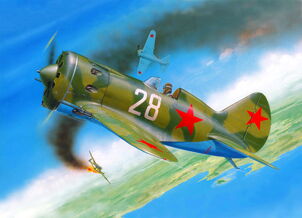 The Polikarpov I-16 was a Soviet fighter aircraft of revolutionary design; it was the world's first low-wing cantilever monoplane fighter with retractable landing gear to have attained operational status and as such "introduced a new vogue in fighter design." The I-16 was introduced in the mid-1930s and formed the backbone of the Soviet Air Force at the beginning of World War II. The diminutive fighter, nicknamed "Ishak" ("donkey") by Soviet pilots, prominently featured in the Second Sino-Japanese War, the Battle of Khalkhin Gol and the Spanish Civil War — where it was called the Rata ("rat") by the Nationalists or Mosca ("fly") by the Republicans. The Finnish nickname for I-16 was Siipiorava ("Flying Squirrel").
The I-16 was the major front line fighter available to the Soviet Air Force when war broke out in 1938. Although a revolutionary design, it was outdated by newer fighters like the Me-109. In spite of its obsolescence, it was kept in the front line because it was all the Russians had.
Ad blocker interference detected!
Wikia is a free-to-use site that makes money from advertising. We have a modified experience for viewers using ad blockers

Wikia is not accessible if you've made further modifications. Remove the custom ad blocker rule(s) and the page will load as expected.