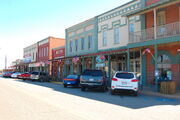 Plains
is a city in Sumter County,
Georgia
. The population was 637 at the 2000 census.
US President Jimmy Carter, his younger brother Billy Carter, and wife Rosalynn Carter were all born in Plains. The ex-President and his wife still live there.
Plains, Georgia was a medium sized town in the Confederate States. It came under attack from Spartacus' band of black resistance fighters in late 1942, during the Second Great War. A Navy man named Jimmy led the defense of the town, and was killed by Jonathan Moss during the raid.
Ad blocker interference detected!
Wikia is a free-to-use site that makes money from advertising. We have a modified experience for viewers using ad blockers

Wikia is not accessible if you've made further modifications. Remove the custom ad blocker rule(s) and the page will load as expected.