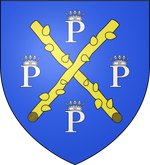 Philippeville
is a Walloon municipality located in
Belgium
in the province of Namur. The Philippeville municipality includes the old communes of Fagnolle, Franchimont, Jamagne, Jamiolle, Merlemont, Neuville, Omezée, Roly, Romedenne, Samart, Sart-en-Fagne, Sautour, Surice (Wallonia), Villers-en-Fagne, Villers-le-Gambon, and Vodecée.
After the 1941 British Military Coup and the French changing of sides, Hans-Ulrich Rudel's squadron of Stukas were transferred from the Eastern Front to a dirt airstrip just outside Philippeville in German-occupied Belgium.[1] Rudel was frustrated by the lack of action and complained to his commanding officer that they should have remained in Russia where they were doing the Reich some good. Colonel Steinbrenner explained that at the moment both sides were not interested in starting a shooting war and that the German diplomats might still salvage a peace in the West. However, the squadron needed to be there in case this failed.[2]
Rudel accepted this but after a while of sitting on the ground, he talked his way onto a Fieseler Storch for a reconnaissance flight. Sgt. Albert Dieselhorst accompanied him as a rear gunner and the two of them enjoyed the flight despite the ground fire from the French.[3]
Peace in the West did not last and the British and the French launched offences. Rudel took to the air with his twin 37mm anti-panzer guns but found the situation more difficult than in the East. Most enemy tanks had radios so Rudel found he could only dive on one to fire upon it but then had to flee the area before enemy fighters arrived. He complained that it was inefficient to not be able to climb after an attack and then dive a second and third time as he had done in Russia. However, Dieselhorst pointedly commented that it was even more inefficient to get a shell through the motor and go down in flames. After that, Rudel kept his complaints to himself.[4]
References
Edit
Ad blocker interference detected!
Wikia is a free-to-use site that makes money from advertising. We have a modified experience for viewers using ad blockers

Wikia is not accessible if you've made further modifications. Remove the custom ad blocker rule(s) and the page will load as expected.